Covid regulations for the summer term 2022
New regulations from 04.04.2022 on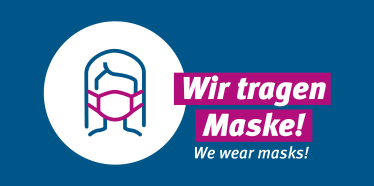 Teaching and examination activities
The summer semester will be conducted in person as planned.
Until 24 April, students will have the option of either taking part in classes digitally or gaining access to their content in an alternative fashion. During this time, examinations should be administered in digital form if possible. Any courses and examinations which must be conducted in person due to their specific character (e.g. lab practicals, practical exercises in sport or music) can take place as normal.
As of 25 April 2022, students will no longer have the right to participate digitally in courses and examinations. Nonetheless, your instructors are free to continue offering supplementary digital teaching elements and hybrid teaching formats wherever this makes sense didactically.
Moreover, we recommend that instructors live-stream or record their lectures if they are held in auditoriums equipped with the corresponding technical equipment.
3G and 2G checks
3G and 2G checks are no longer legally required for participation in in-person courses and examinations.
Face masks
We strongly urge you to continue wearing medical face masks in all University buildings, at your workplace and wherever people congregate together, which includes all courses and examination situations. We firmly believe that face masks play an important role in protecting each other from infection. At the same time, we wish to show solidarity with those whose health and well-being depends on everyone's mindful interaction in society. Please continue to do your part by wearing a mask!
The complete overview of the regulations can be found here: https://sso.uni-muenster.de/de/en/corona-update/20220325_regelungen_sose...