Cityvolt – Identification of Locations for Mobile Fast Chargers of Uniper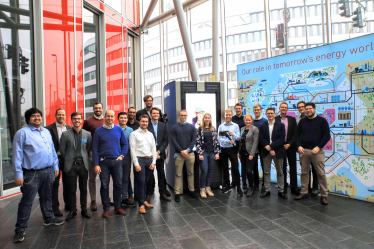 A rapid improvement of the existing charging infrastructure is necessary for the shift towards electromobility. Unfortunately, in particular, fast-charging stations have not been widely used in Germany until now. The energy infrastructure is not designed to provide the required amount of electricity in many places. This is where "E-Mobility Solutions by Uniper" comes into play: The system is based on mobile fast chargers that can be set up flexibly, also in inner-city areas if required. They present a valuable contribution to the sustainable improvement of the charging infrastructure for electric vehicles.
But where are the ideal locations for mobile fast chargers? This complex question was addressed by the team of 10 bachelor students in the project seminar "Cityvolt" in the winter semester 19/20, taking into account customer needs as well as regulatory and technical requirements. To identify the locations, the students developed an algorithm for the automated identification and evaluation of potential locations and implemented it in a web application in the Microsoft Azure Cloud.
During their final presentation at Uniper's headquarters in Düsseldorf, the students demonstrated their solution in which potential locations for a selectable city can be evaluated and graphically displayed. Map data from publicly available databases, as well as knowledge and experience of experts from the project partners, were used for this purpose.
The project team of Uniper was impressed by the solution and the presentation skills of the students. They are already working on improving the prototypical software and integrating it into their own software platform for the management of the mobile fast chargers. We would like to take this opportunity to thank Uniper: for their joint work on this innovative and future-oriented topic and for the excellent support of the students. We wish much success for "E-Mobility Solutions by Uniper"!