Successful cooperation between DHL Consulting and students of the WWU Münster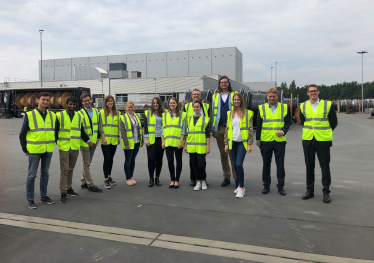 In the project seminar "Real Estate Data Analytics" offered by the Chair for Information Systems and Supply Chain Management together with the industry partner DHL Consulting, it was examined how investment decisions in the area of real estate can be supported with methods of data analysis. For this purpose, DHL Consulting provided real data which the students could evaluate with explorative data analysis and thus apply their acquired expertise in this area.
The presentation of the results of the project seminar took place on 9th July in Bonn, the European headquarters of DHL Consulting. The eight participating Master students presented the model they had developed, which can be used to make data-based forecasts about the development of different regions with regard to logistics real estate and to derive investment recommendations.
Previously, participants were able to visit a warehouse of DHL Solutions and gain new insights into the warehouse's operations and processes during the one-hour tour. The combination of different warehouse types (automatic high-bay warehouse, small parts warehouse, block storage, external warehouse, etc.) at this location was particularly interesting, as was the use of new technologies to optimize picking.