Kick-off of the project seminar with CLAAS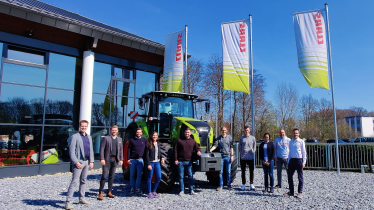 Together with CLAAS, seven master students work on a prototype for Augmented reality for Agricultural Machinery. Where do I add AdBlue to my LEXION 8900-7400? Where is this specific fan belt that needs to be changed in my JAGUAR 960 TERRA TRAC? Imagine an AR solution available on your mobile phone, pointing you exactly to where you will find it.
The students, led by Tobias Brandt's group, will work with the CLAAS team to develop a prototype that will be linked to the existing CLAAS Connect App. That way, users have everything about their tractors or combine harvesters in one place.Image recognition, feature identification, machine learning – and everything via a mobile phone. These will be only some of the topics the students will work on for the next four months.
On monday, the project seminar had its kick-off at the CLAAS HQ in Harsewinkel, where the CLAAS team welcomed the group.