CrowdEquality: Idea Crowdsourcing Platform developed at the Department of Information Systems is 'live'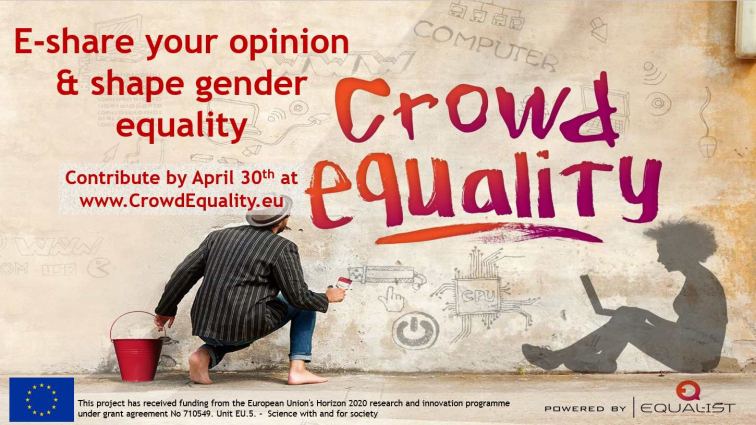 Within the EQUAL-IST project ("Gender Equality Plans for Information Sciences and Technology Research Institutions", funded by the EU in the Horizon 2020 programme) an idea crowdsourcing platform has been developed by the team of eight Information Systems Bachelor students as part of their project seminar in Winter Semester 2016/17.
The platform is aimed at collecting ideas and triggering discussions about promising initiatives for promoting gender equality and diversity and improving work-family balance at the University of Münster, School of Business and Economics (SBE) and, in particular, at the Department of Information Systems. The platform is now 'live' and accessible at www.CrowdEquality.eu.
Initial challenges and ideas revealed during the internal analysis conducted at the SBE in January-March 2017 have already been submitted to the platform. You are very welcome to contribute to the platform until April 30th (end of the so-called Ideation phase) by commenting on and adding 'Likes' to the challenges and ideas.
In order to start contributing to the platform, please register with your @*uni-muenster.de email address. By registering with your university email address you will have an opportunity to filter only those challenges and ideas that are relevant for the MSBE (option "View only challenges relevant for the UNIVERSITY OF MÜNSTER") and post comments that would be visible only to the other registered members from the WWU (option "Internal view (UNIVERSITY OF MÜNSTER)"). Six further research institutions from different European countries use the platform as well.
After this first Ideation phase, a Voting round will be initiated at the end of May 2017 for all collected feasible ideas. Another invitation to vote for the best ideas will be announced then. The ultimate goal is to subsequently implement the winning ideas in practice.
Further information about CrowdEquality can be found here, as well as in the flyer here.