Research Team Supply Chain Digitalization
Digitalization is ubiquitous, and thus supply chains are thoroughly disrupted by its emerging phenomena, such as Industrie 4.0 and Big Data. Within the first research area of Supply Chain Digitalization, the chair wants to meet the challenges that come with it, identify, and exploit opportunities that arise. To achieve this, the chair conducts research on emerging trends such as Supply Chain Performance Measurement, Production Planning under Industrie 4.0 and Predictive Maintenance and investigates how supply chain digitalization can facilitate through the means of Computational Intelligence and Supply Chain Analytics.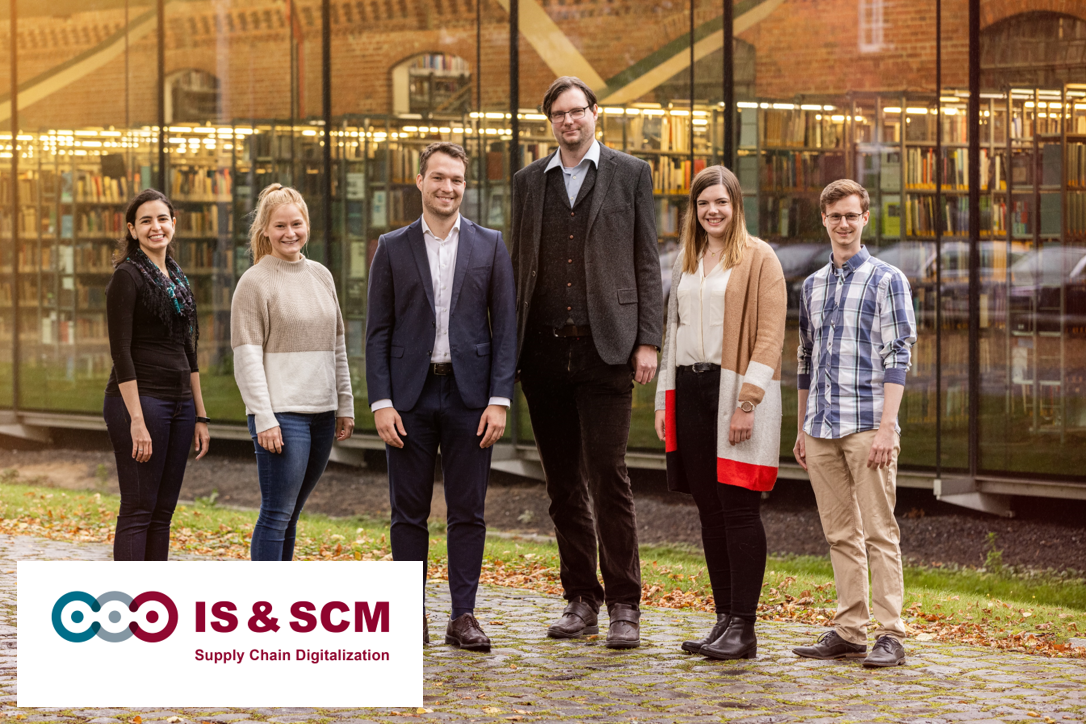 The research team Supply Chain Digitalization (fLTR):
Research
Predictive Maintenance, Prognostics and Health Management
Supply Chain Analytics, Machine Learning for Transport Planning
Optimization and Analytics, Automated Design of Optimizers for Supply Chain Planning
Performance Measurement Sytems, Performance Measures
Supply Chain Risk Management
Teaching of ST 2022
Bachelor
BA-VM Digital Supply Chain
The increasing digitalization offers high potential to increase processes' efficiency, improve decision-making or develop new business models within supply chain management (SCM). However, its implementation confronts companies with high challenges - technical and non-technical ones. This module deals with digitalization's opportunities for SCM. In its first phase, lectures will provide you with basic knowledge on SCM and digitalization. The second phase will require each participant to focus on a specific application area or technology and write a seminar thesis about it.
BA-PS Digital Warehouse Twin
A digital twin describes a virtual copy of a physical object. Such a digital twin can then be used to conduct planning or simulation studies and predict future system behavior. Our project partner Arvato, one of the largest providers of logistics services in Germany, already uses such digital twins of warehouses to enable, for example, ideal route planning. However, changes in the department store are currently only updated manually in the digital twin. Within this project seminar, the goal is to identify technologies and develop methods that simplify the creation and maintenance of digital twins for Arvato's warehouses.
BA/MA-PS One.Cockpit: Data Self-Services
Over the course of time, our project partner has accumulated various applications, and this variety and the various UI concepts are too complex for the user to understand. A first goal is, therefore, to clean up the existing application landscape and to consolidate all "data applications" on one platform. For this purpose, various use cases are currently being collected and analyzed with regard to data sources, complexity of the business logic and sales potential, etc. In a second step, the project partner also wants to establish new, data-driven products and services for German / EU retail. They have already collected various studies and ideas on this but are still beginning.
Master
Teaching of WT 2021/22
Bachelor
BA-PS Advanced Service Parts Forecasting
Spare parts are characterized by sporadic and intermittent demands that make prediction difficult. Although many algorithms, from exponential smoothing to Croston's method, have been researched, often only the simplest methods are used in practice. Besides the complexity of accurate algorithms, the implementation and embedding in a wide enterprise landscape is a major difficulty. Furthermore, new potentials arise from artificial intelligence methods and new data sources (e.g. sensors). This project seminar deals with the development of a future concept for spare parts forecasting, which can exploit the unused potentials, taking into account the numerous difficulties of spare parts demand forecasting.
Master
MA-PS Predictive Maintenance for AIOps
The emergence of digitalization results in the need for IT operations to become more flexible and adapt to new infrastructure. AIOps (Artificial Intelligence for IT Operations) are a new approach to IT operations considering big data and machine learning as its central components. A reliably working infrastructure is essential for a successful application of AIOps. Hence, this project seminar focuses on the idea to apply predictive maintenance to IT infrastructure. The project is conducted in cooperations with IQ-optimize.

MA-PS Data Analytics for Supply Chain Performance Measurement
Today's business environment requires supply chains to be proactive rather than reactive, demanding a new approach for supply chain performance measurement systems (SCPMS) which includes data analytics. This project seminar addresses the topic of data analytics-driven SCPMS (DA-SCPMS) focusing on forecast scenarios for supporting both the identification and management of complex and uncertain decision-making. Students collaborating with this seminar are expected to design and implement a DA-SCPMS prototype in the context of forecast scenarios in cooperation with thyssenkrupp Materials Services GmbH.

MA-CS Supply Chain Analytics
Due to emerging technologies, storing and processing more data than ever before becomes possible. Hence, (big) data analytics gains currency over various industries. Supply Chain Management also starts to apply data analytics to gain new insights, adapt processes or even optimize the supply chain. However, implementing analytics is not an easy endeavour and various challenges need to be tackled before reaping the expected benefits.
This seminar will look into supply chain analytics (SCA) and discuss it from various views. Topics both include application cases of SCA and issues surrounding the implementation process such as necessary capabilities.
Available theses
We offer various topics in the areas of our past theses, which can be seen here:
If you are interested in one of these areas, you can write a mail to the corresponding person, and we will work out a topic together!
Selected publications
Hellweg, F., Lechtenberg, S., Hellingrath, B., & Thomé, A. M. T. (2021). Literature Review on Maturity Models for Digital Supply Chains. Brazilian Journal of Operations & Production Management. (Accepted)
Wagner, C., & Hellingrath, B. (2021). Supporting the Implementation of Predictive Maintenance — a Process Reference Model. International Journal of Prognostics and Health Management, Vol. 12(002).
Wesendrup, K., & Hellingrath, B. (2020). A Process-based Review of Post-Prognostics Decision-Making. In Proceedings of the 5th European Conference of the PHM Society, Virtual.
Mello, R., Hellingrath, B., & Martins, R. (2019). Big Data Analytics in Supply Chain Performance Measurement Systems. In Proceedings of the 26th International Annual European Operations Management Association Conference, Helsinki, Finland.
Project partners