Applications
Research Topics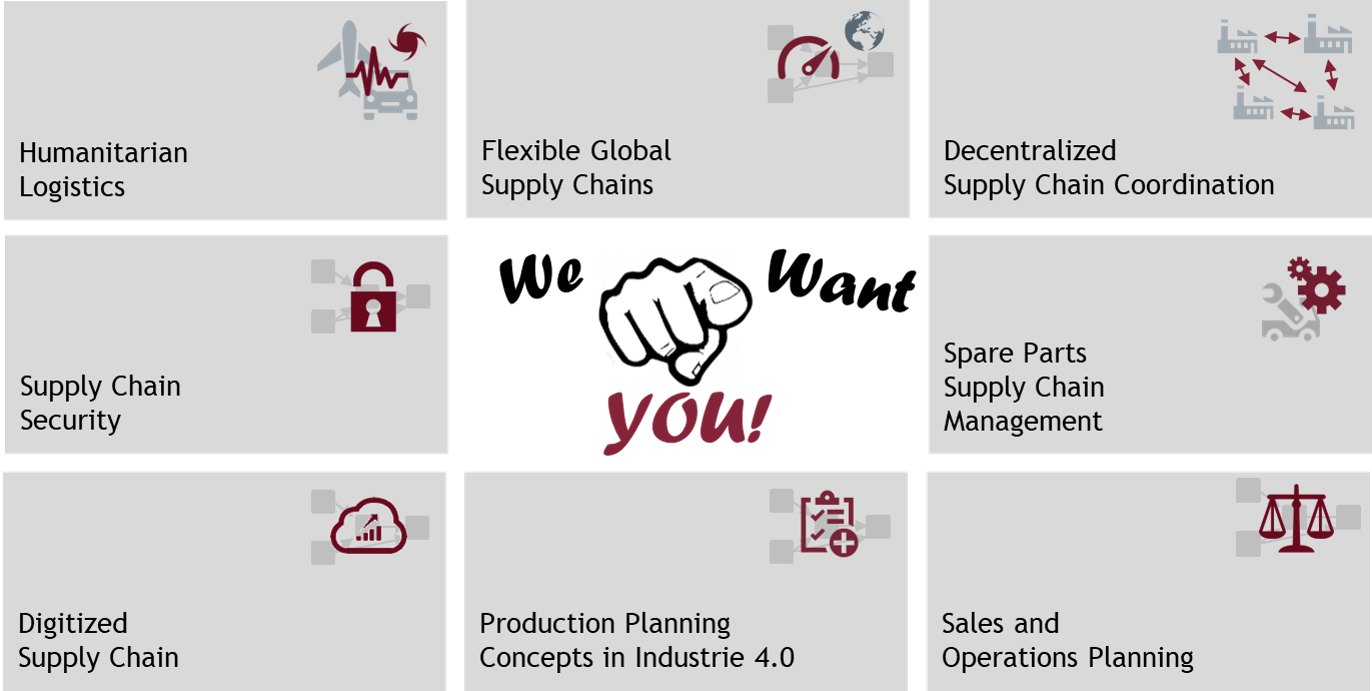 We follow a range of research topics within our team. Why? Because we all have our own interests and special capabilities, in which we aim to improve. From crunching numbers over designing processes to conceptualizing methodologies, we do what we can do best. You have the opportunity to investigate any of these areas and contribute with your own ideas. Even if you have a new topic in mind, we are happy to add you to the team.
Responsibilities
At the chair, we have three major responsibilities: Teaching and Chair Organization, Research Projects and Ph.D. research. Positions for research assistants are focused either on teaching, or on research projects. Both can share objectives with the own Ph.D., if the topics do overlap.
On teaching-oriented positions, the research assistant is responsible for the preparation and support of lectures and other teaching courses. Research assistants may also get involved in some smaller research projects or its research package(s).
On project-focused positions, the research assistant is responsible for work packages in specific research project(s) ideally in relation to the own research topic. In the context of their own research, the research assistant may propose or be involved in teaching courses, thus performing some teaching activities too.
Both positions are involved in the proposal and supervision of Bachelor's and Master's theses in the context of the lectures or (PhD) projects they work in.
| | |
| --- | --- |
| Responsibilities | Attribution over time |
| | |
There are no two equal shares of responsibilities among the research assistants. Hence, there is no predefined path towards your Ph.D. This highly depends on your interests and capabilities and of course, on the teaching and project activities you may be involved in. Furthermore, every assistant is organizing one part of the chair's daily business. The Ph.D. will be developed in synergies with the dedicated teaching or research project activities. To learn your basic toolset of our research group, you will in the beginning focus on teaching or project tasks and develop your own research topic. Later, you will be able to focus more and more on your Ph.D.
You have the opportunity to get in touch with researchers outside the university by publishing your research to conferences, including a trip to the conference anywhere in the world. You can count on the backup and experience of team members who just joined as well or are close to their own Ph.D. goal. We have an international team with a strong bond to Brazil with possibilities to travel there as well.
How to Apply
We always search for outstanding dedicated candidates for our team and look forward to your speculative application. You can also review our current job offerings https://www.wi.uni-muenster.de/career/job-offers. Please submit your application including the regular documents (CV, certificates, references etc.) via E-Mail to:
Prof. Dr.-Ing. Bernd Hellingrath
European Research Center for Information Systems
Leonardo-Campus 3
48149 Münster
Remaining Questions?
For any questions to the application procedure, please contact our secretary:
Carmen Sicking
Phone: +49 251 83-38000
Office hours: Monday to Thursday, 9:00 am to 1:00 pm
If you have questions regarding the research topic of any of our research assistants, feel free to contact them directly.