DATA TALKS EPISODE #5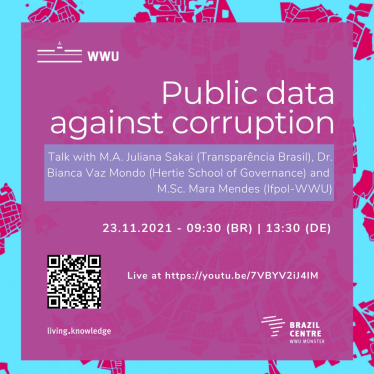 Corruption undermines the democratic institutions and forbids citizens to have access to their rights, increasing social inequalities and punishing especially the most vulnerable ones. How can civil society take concrete measures to fight corruption and how public data can be an essential tool for this battle? That is the topic of Data Talks #5 "Public data against corruption", with M.A. Juliana Sakai (Chief Operating Officer - Transparência Brasil), Dr. Bianca Vaz Mondo (Hertie School of Governance) and M.Sc. Mara Mendes (IfPol-WWU).
Watch it live on 23.11.2021, 09:30 (BRT) / 13:30 (CET) at https://youtu.be/7VBYV2iJ4lM.
We also invite you to watch the previous episodes of the Data Talks or listen to them in podcast format and learn more about the Data Talks project at our project's website: https://lnkd.in/eT_FucdT .
What is Data Talks?
Data Talks is a series of talks between experts from Brazil and Germany who will discuss the use of public data in today's society. Data Talks is an initiative from Jessica Voigt, German Chancellor Fellow by the Alexander von Humboldt Foundation, supported by the Brazil Centre from the University of Münster in the framework of the strategic partnership project wwu.usp, funded by the DAAD.
#PublicDataAgainstCorruption #DataTalks #CorruptionFighting #SDG16 #CivicHacker #CivicInnovation #OpenData #Brazil #Germany #wwuusp #strategicpartnership #Episode5