Humanitarian Logistics
2nd BVL Humanitarian Logistics Council
The number of acute and permanent catastrophes has increased by six times in the last forty years. Current examples like the earthquake in North Italy underline once more that measures like an efficient emergency response and a controlled long-term recovery are essential.  Up to now, 50 to 80 percent of collected donations raised by aid agencies are spent on logistics. Through better and more cost-efficient processes in logistics great savings can be achieved. This is the starting point for the Humanitarian Logistics Council of the BVL (German Logistics Association).
The Humanitarian Logistics Council is lead by Prof. Dr.- Ing. Hellingrath who holds the Chair for Information Systems and Supply Chain Management at the Westfalian Wilhelms-University in Münster. The council connects about 35 organizations from aid, industry, trade and service, and research.
Objective
The council aims to develop solution approaches for a sustainable improvement of Humanitarian Logistics, which is based on the results of the 1st BVL Humanitarian Logistics Council, which was lead by Prof. Dr.-Ing. Baumgarten from 2010-2011. The results of the 1st council are published in German, as seen below.
Key subjects
1. Platform to support logistics in disaster operations
Conception of a platform for the support of aid agencies through members of the BVL network
Identifying a group of experienced logistics experts that are willing to function as advisors for aid agencies or participate actively in disaster operations
2. Expansion of the IT requirements profile from the 1st council
Identifying and reprocessing the requirements profile for IT systems
Consideration of location based services or crisis mapping approaches
Creation of a base for technological innovations in context of humanitarian logistics software
3. Get Seaports Ready for Disaster
Development of a program for the logistic coordination of seaports in case of disaster
Conception of a pilot project with harbor operators and other service providers in logistics
4. Internationalization
Transfer of the 1st council's insights into and further discussions with the international community
Invitation of renowned international representatives to council meetings
Publication of the council's results and documentation in English
Contacts
Prof. Dr.-Ing. Bernd Hellingrath
Publication of the 1st BVL Humanitarian Logistics Council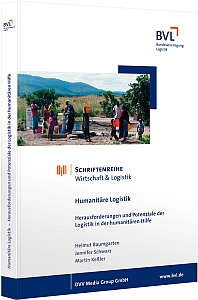 The German publication "Humanitarian Logistics – Challenges and Potentials of Logistic in Humanitarian Aid" (title translated) identifies logistic problems in aid missions in disaster regions and provides suggestions for the improvement of humanitarian logistics. A detailed description of this publication is available on the German version of this website. The publication is available in the DVZ books web shop.